July 10, 2019
---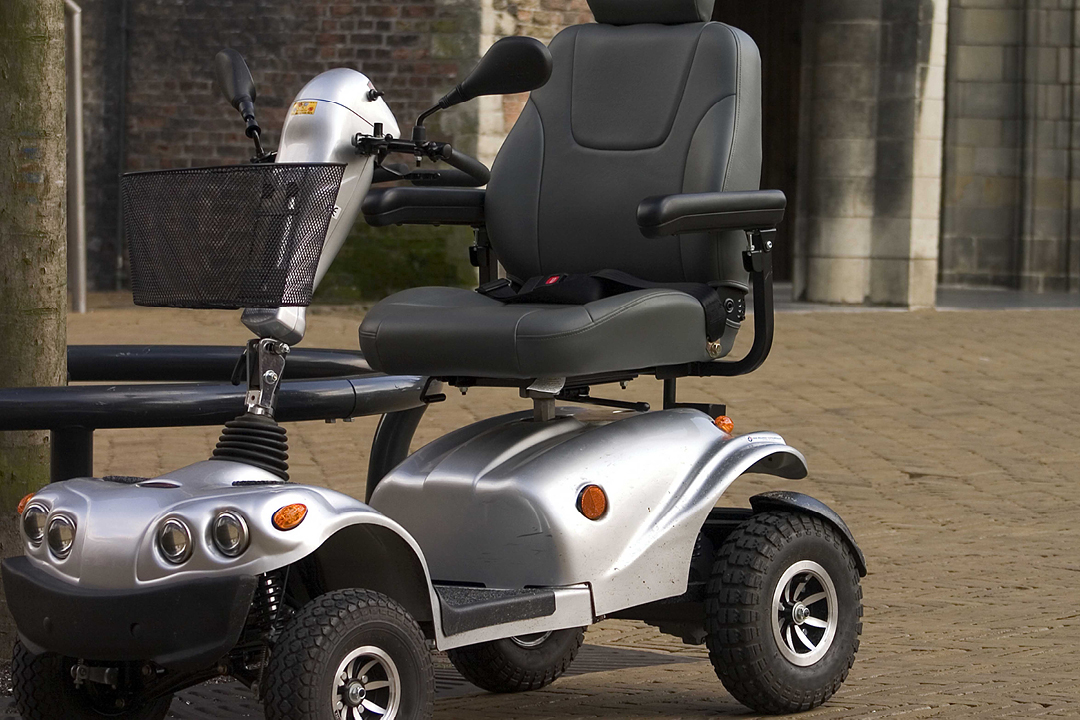 The UK is one of the fastest growing markets for mobility scooters in Europe. A government-backed study in 2014 put the number of users at between 300,000 and 350,000. And the figures keep on rising: sales of mobility scooters are increasing at a rate of around 5–10% per annum. But the benefit of owning a scooter also comes with a risk in the form of fire safety relating to the battery – a source of ignition, similarly found on many other electrical devices – and arson, too.
The situation is something of a modern paradox: while mobility scooters are indispensable to improve the quality of life for those who use them, they may also be putting lives at risk, especially when parked in corridors or communal spaces within multiple occupancy buildings. These could be council flats, social housing, sheltered accommodation, care homes and retirement complexes, many of which cater for a high proportion of elderly residents or people with limited mobility.
Building design causing problems for mobility scooter storage
The design of many older dwellings does not always easily lend itself to the safe storage and charging of mobility scooters. For example, very few flats were designed or built in the past with mobility scooters in mind, meaning that safe charging areas are not provided and the design does not allow easy conversion for their safe use.
A lack of space and the layout of corridors, lifts and stairways in communal areas mean that individuals will often leave scooters adjacent to front entrance doors on protected escape routes or within protected stairways. Also, residents in sheltered accommodation, for example, often have no space to keep scooters inside their home – that's if they can actually get them through the door in the first place. So, scooters are typically left outside within the communal corridor or hallway.
How a scooter fire develops
The Building Research Establishment (BRE) carried out an experiment to measure heat release and smoke production rates from two mobility scooters. They used two machines rated as Class-2 Powered Wheelchairs and Scooters, which are the type often brought indoors. The experiment found that 3 minutes after ignition of a scooter, the ceiling temperature had reached 300°C. Within a further 2 minutes, the fire had spread to a second scooter. After 7 minutes in total, gas temperatures at ceiling height had reached just over 1000°C. By this time, a substantial quantity of smoke was also being produced. Based on this evidence, it follows that bigger scooters (or a larger number of scooters) are likely to lead to far more severe fires and larger quantities of smoke.
However, it is important to note that none of the findings should be taken as suggesting that any particular make or model of mobility scooter performs better or worse in fire compared to others.
With 66% of scooter fires related to arson, the National Fire Chiefs Council (NFCC) has noted in its 'Mobility Scooter Guidance for Residential Buildings' that scooters are often stored outside in an unsecured compound, which allows fires to spread to the inside of buildings through windows and doors.
As a very striking visual aid, the Dorset Fire and Rescue Service has created a video that shows how a scooter fire develops and they also offer relevant charging advice.
The impact of a scooter fire
As well as posing a potential obstruction to escape, there is now a clear and increasing body of evidence to show that mobility scooters present a fire risk in themselves, even while not charging.
When burning, scooters produce large quantities of smoke and heat, exacerbating the spread of the fire and impacting on opportunities for safe escape. In addition, when a mobility scooter is involved in a fire, the risk of harm is significant. In residential buildings, mobility scooter fires can pose a life safety risk to tenants, employees, firefighters and other relevant people. In many sheltered housing schemes, there could be just two or three minutes before serious problems arise, especially as the presence of mobility scooters means that people with limited mobility are likely to be present in the building.
Fire incidents involving mobility scooters have been hitting the headlines. As the NFCC states: "Statistically, the number of fires involving mobility scooters is low; however, the consequences when fires happen are particularly devastating." One news story dramatically describes the scooter as having "burst into flames". Sadly, there have also been reports of fatal fires. One was caused by a mobility scooter arson attack specifically directed at a machine.
An easy solution to scooter storage fire risk
At metroSTOR our mobility scooter storage solutions effectively remove the fire hazard associated with improper storage in residential dwellings and communal areas. The units are easy to use and can be located close to building entrances with direct access for users. Whether you choose a single locker style or a communal unit with multiple scooters, each solution is visually attractive, simple to install, robust and – most importantly – safe.