July 12, 2019
---
Storage for Mobility Scooters FAQs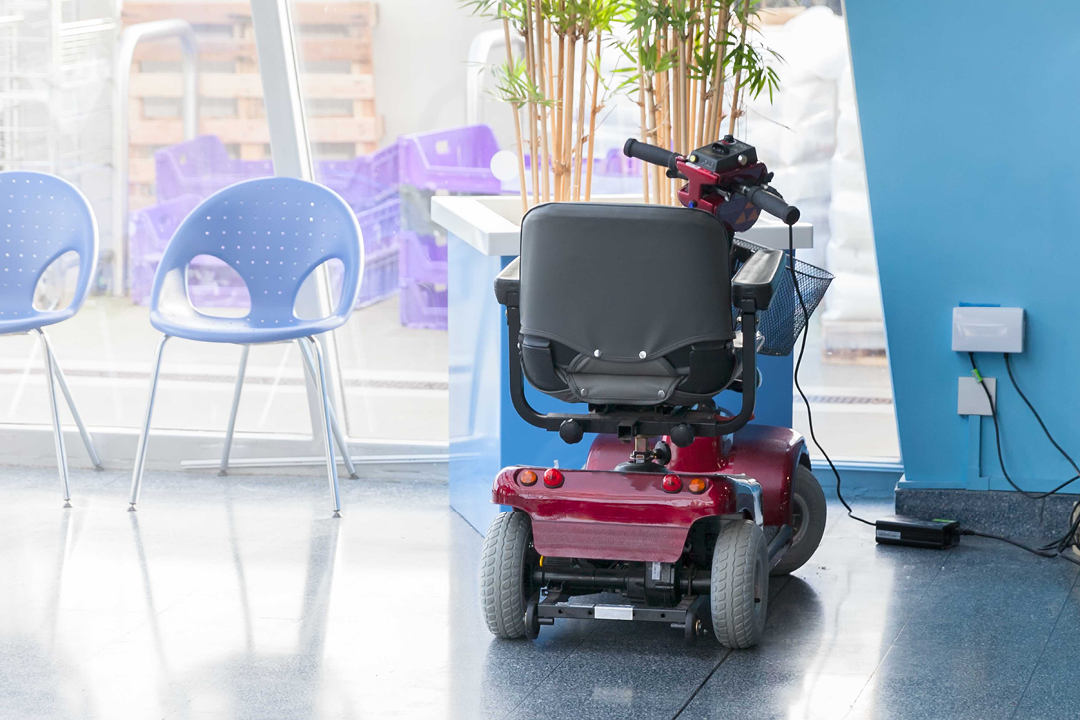 How do I charge my mobility scooter?
First, find out if your scooter has gel or sealed lead acid (SLA) batteries – check with the company you bought the equipment from or check it yourself if you know what you are doing! You should always read and follow the specific instructions for your scooter because advice can vary.
It is generally advisable to charge your scooter when you have finished with it for the day.
When you plug in your scooter or wheelchair to charge, leave it until it has been fully charged and the light shows green. But do not overcharge!
Do I need insurance for my mobility scooter?
Although you don't need to have insurance by law, the Department for Transport strongly advises people to take out mobility scooter and powered wheelchair insurance to cover your personal safety, other people's safety and the value of the vehicle.
Some household contents insurance providers will cover your mobility scooter but it's worth checking that this is the case, as it might depend on whether the scooter is licensed for road use. It's also possible to buy specific insurance for mobility scooters, which can cover public liability, breakdowns, puncture repair and key loss.
Can mobility scooters be stored outside?
Yes, your scooter should be stored outside, preferably in a secure, lockable mobility scooter shed or unit with its own power supply for charging.
metroSTOR offers storage sheds specifically designed for housing mobility scooters. These sheds range from a single locker type unit to a communal hub building.
Where should I locate the storage for mobility scooters? 
It needs to be located a safe distance away from any dwelling (the National Fire Chiefs Council (NFCC) recommends 6 metres). But it should be ensured that residents still have easy and convenient access to it.
Also, you should consider whether residents will be able to manoeuvre a mobility scooter to the storage unit – for example, are pathways wide enough? Seek professional advice if you are unable to find a location that is 6 metres away.
metroSTOR offers a range of mobility scooter storage and charging products suitable for almost any location. Our technical advisers are always willing to assist you in finding the best product or configuration, and will be delighted to send CAD blocks and NBS specifications as required.
Can I charge my mobility scooter battery in the metroSTOR mobility scooter shed?
Yes, all metroSTOR units come fitted with an electric power point, meaning that you can charge up your scooter while it is being stored inside the unit.
Is it possible to ride disability scooters into the mobility scooter storage shed? 
Yes, scooters can be ridden into all of our units.
How many mobility scooters can you store in one communal hub?
Our largest hub, the PSH 48.98, will store and charge up to 16 mobility scooters but it can be extended further as required.
Do I need planning permission for a metroSTOR scooter shed?
Although they are removable structures, it is best to check with your local planning authority because many consider that planning consent is required.
Are the metroSTOR mobility scooter garages approved by insurance companies? 
Many insurance companies do consider the storage units to be approved.  However, always check with your own insurance provider to confirm this.