November 25, 2019
---
A Headmaster with a passion for cycling is changing the culture at a Berkshire school to encourage green travel.
Jesse Elzinga, Headmaster of Reading Blue Coat, is a regular road racer and believes the school should play its part in reducing its carbon footprint.
He has invested in a Streetspace covered canopy to create a purpose-built cycle storage area which even has dedicated spaces for staff.
Mr Elzinga said: "Our bike shed in recent years was a bit tired. It had not been upgraded in-line with other facilities on the school site, so I am delighted that we could update this site. Now we have a purpose-built bike area which keeps pupils and staff cycles out of the rain. It has good drainage and plenty of space."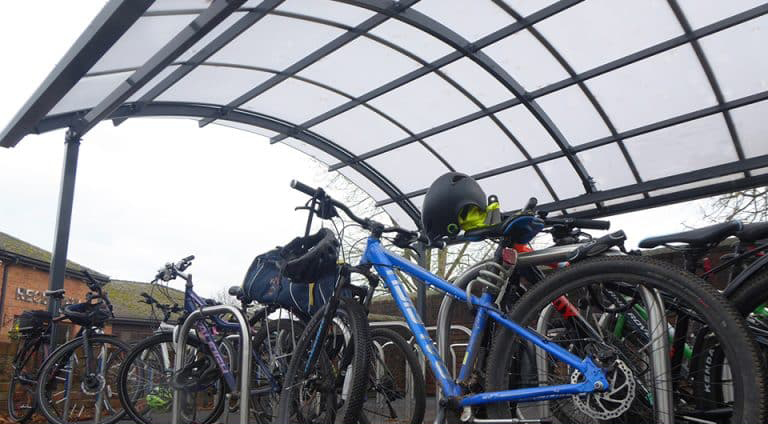 The investment has been welcomed by cyclists at the school.
Joel W, student, said: "I really enjoy cycling. I find that cycling really helps me to cope with stress as it has been a big move to come here from primary school.
"This new bike shelter really helps your bikes stay dry, promotes cycling and I'd love more people to cycle as I think it is a brilliant hobby and a brilliant sport."
Jack H, student: "Bad weather in winter would get my seat wet from the rain and I'd get a wet bum. It's a lot nicer now we have a convenient place to park our bikes for the day."
Cycling is not the only topic Streetspace has supported at Reading Blue Coat. Mr Elzinga is a firm believer that creating a smart school campus helps foster a positive and diligent attitude in students. To assist with this Streetspace created a series of smart glass entry spaces and roofs.
Mr Elzinga said: "I do think the aesthetics of the school site are linked to health and wellbeing. I believe that the learning environment does make a difference to the attitude and the behaviour of the pupils and when you come into a gorgeous, inspiring place it makes everyone lift their game – both in terms of academic attitude and approach to work, but also in terms of their conduct and behaviour.
"Much of the work is thanks to your company. These special touches make the campus look smart."
To find out more visit streetspacegroup.co.uk
Fact-file
Reading Blue Coat School was originally founded in the centre of Reading in 1660 – 370 years ago.
It moved to its current idyllic site in the village of Sonning by the side of the Thames in 1947.