Covered walkways serve a dual purpose, protecting site users from adverse weather conditions while providing clearly defined access routes to connect buildings. These structures help promote people flow across sites, creating a safer and more pleasant environment.
Polycarbonate Roof Covered Walkways
With an all-steel frame and clean design, TRITON covered walkways from Streetspace offer outstanding durability and good aesthetics. 
Fabric Roof Covered Walkways
The distinctive elegant form of an ORION tensile structure provides the opportunity to create a statement covered walkway without sacrificing practicality.
Bespoke Covered Walkway Projects
Our talented designers can adapt 'off-the-shelf' products to meet more challenging briefs. Contact us directly to discuss your project requirements and objectives.
The Advantages of Covered Walkways
Well-designed covered walkways can provide a network of safe and convenient routes to connect buildings, helping mitigate associated health and safety risks particularly in high traffic areas such as schools and other education establishments.
Wet weather can increase the risk of injury from slips and falls as staff and students move from building to building. In colder months, these hazards will increase when any surface water freezes on uncovered walking routes.
School corridors can become congested during peak times, resulting in classes starting late and extra supervision by school staff required. Many schools have kept social distancing measures in place over the recent pandemic requiring all available walking routes be used to prevent overcrowding and the associated issues.
Keeping fire escape routes clear at all times is imperative and the potential for overcrowded internal corridors requires careful risk assessment and controls. Creating designated walking routes outside encourages students to take more orderly routes and maintain an even flow of pedestrian traffic during peak times.
Types of Covered Walkway
The design requirements for covered walkways mean the structure will be linear in format with a relatively narrow cover width. Changes in direction and level will need to be accommodated, along with potential cladding to elevations for added protection. The inherent strength and design flexibility of steel framed canopies is ideal for the application, though glulam engineered timber can be used either solely or as a hybrid design with steel elements.
The same roof cover systems as canopy structures can be specified on covered walkways. TRITON polycarbonate roofed structures provide durability and long life with UV protected multiwall polycarbonate panels and an aluminium glazing system.
ORION tensile membrane structures are designed around a tensioned architectural PVC membrane. The one-piece fabric membrane provides a smooth and low maintenance surface that is dirt and moisture resistant, and the glare-free ambience combined with excellent light transmission.
Streetspace walkway canopies are specified with galvanised and powder-coated steel rainwater systems as standard. To increase weather protection for users, covered walkways can be specified with cladding to elevations, typically those most exposed to elements, with enclosure systems in toughened glass or multiwall polycarbonate.
Selecting A Covered Walkway
Streetspace covered walkways are custom designed for each project with the design flexibility to adapt to changes in direction, ground level and irregular shaped buildings. Monopitch, symmetric or asymmetric forms are available in freestanding, wall mount or combination of both and the form will often be determined by the height of adjacent buildings and the desired architectural style. Colour powder coating of steelwork provides an extremely durable finish that can be specified to coordinate with building design or corporate colours.
Our in-house design and structural engineering capability ensure that your walkway project meets the required specifications and desired outcomes of the project.
Previous Covered Walkway Projects
Nunnery Wood High School, Worcester
A monopitch TRITON covered walkway was installed to ensure staff and students of Nunnery Wood High School are protected from the elements.
One of the busiest thoroughfares at the school runs in between the two main classroom blocks, and during wet weather, indoor areas were becoming heavily congested. The steel frame canopy design allows for flexibility with support column spacings, which was an important consideration with multiple doorways opening onto the walkways. The use of multiwall polycarbonate roof cladding ensured that classrooms adjacent to the walkway canopy were able to retain natural light levels.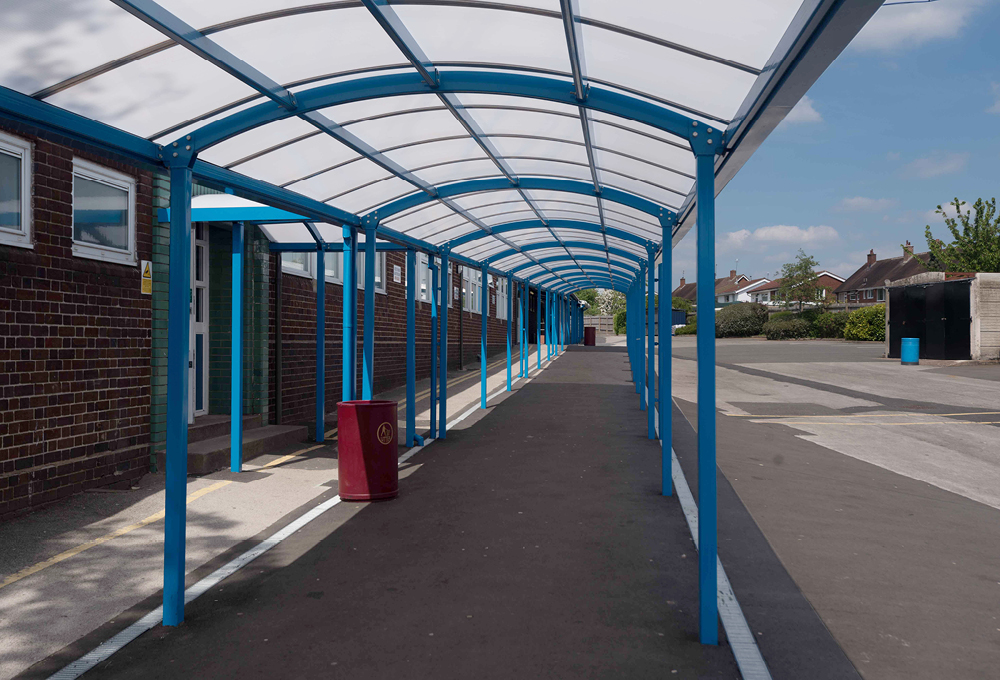 Cockshut Hill School, Birmingham
Streetspace provided Cockshut Hill School with an all-weather walkway canopy to connect the two main school blocks. The Streetspace design team was commissioned by the project architects to provide a visually appealing, weather-protected walkway to enable a safe and easy pedestrian passage across the school. An additional consideration was that due to the sloping nature of the site, water would run downhill and freeze in colder months, creating a slip hazard.
A 105 m long TRITON covered walkway was specified after an extensive design and consultation process. The client specified a radius roof design including full galvanised steel guttering colour powder coated to match the canopy steel frame. Below ground drainage and local resurfacing works were part of the covered walkway project, ensuring reliable management of surface water.
The Bridge Academy, Hackney
The TRITON Walkway Canopy installed at the Bridge Academy covers a 4 m wide and 15 m long pedestrian walkway connecting the main academy building to the sixth form block, 8 m above ground level. The Streetspace design team undertook a detailed survey of the bridge deck, working with specialist engineering consultants to develop construction solutions for the new structure.
The finished result complements the modern design architecture of the academy buildings and ensures students and staff are kept dry in all weathers between the main building and sixth form block.




St Aldhelm's Academy, Poole
Following the replacement of the school's existing and outdated facilities, a link connecting the current and new buildings was required to provide students protection from inclement weather. Streetspace was tasked with providing a functional covered space with an aesthetic that matched the new build areas of the school.
A freestanding curved roof steel frame canopy walkway was installed with 16 mm Opaque Triplewall Polycarbonate roof cladding. Due to the school's proximity to the sea, Arc Sprayed Zinc Coating was applied prior to the powder coat. The covered walkway provided 278 m².
Keep up with the latest from Streetspace