March 17, 2021
---
Recycling in the UK
Global Recycling Day comes just over a week after the revelation that in the UK more waste is currently burned than recycled. An investigation by Channel 4's Dispatches into where our household waste and recyclables are sent, shows that much of our waste that is collected for recycling is in fact being sent to incineration plants. What is more worrying is that the total carbon emissions from incineration is greater than those from coal. They also found a strong link between regions with incineration contracts and low recycling rates.
A recent Department for Environment, Food and Rural Affairs study showed that recycling rates in the UK are still on a par with 2017, although progress has been made in diverting waste from landfill. It seems that the UK is struggling to improve recycling rates. This makes reaching the target of 65% municipal recycling waste by 2035 a challenging goal.
Get on board with recycling
Not only is recycling a key part of the circular economy helping to protect our natural resources, it is absolutely essential if we are to reduce damaging landfill waste and do our bit to help the environment. The statistics above are very worrying, but here is hope.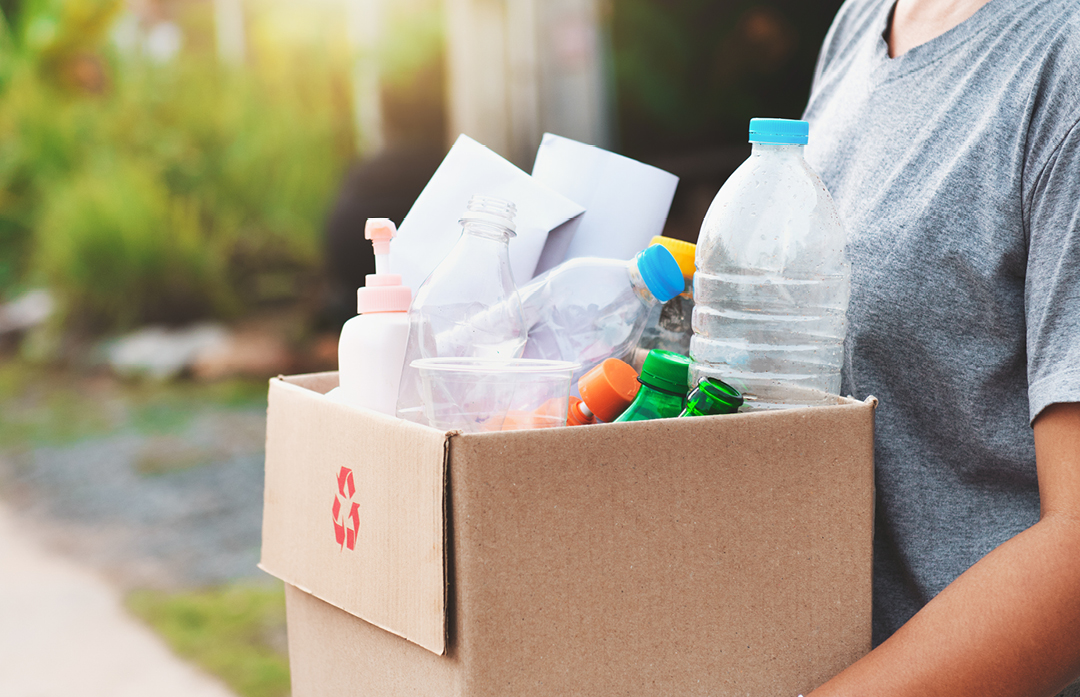 How can design help?
I'm a big believer that considered design can improve recycling rates and set up future success. If we change our strategy at a design level, implementing small changes that enforce positive recycling habits and making it easier for household waste to be recycled, rates will improve.
Given this, here a few things I recommend considering when designing effective recycling storage in new and refurb developments that will help increase recycling rates:
1. Accessibility
Installing recycling facilities in an accessible location is key to improving recycling rates in neighbourhoods, particularly in flatted accommodation and in developments where space is tight. It's been proven that residents are disinclined to use recycling facilities that are out of their way.
Furthermore, where stores are hidden, they can become targets for anti-social behaviour and even arson. This makes residents less inclined to use them.
I've seen huge success in the implementation of recycling facilities outside of flatted accommodation, but this strategy can also be applied to new and refurb housing developments. This not only removed the need for smelly bin rooms – another road block to recycling – but makes them as easy as possible to access.
2. Attractive design
Attractively designed bin housings not only improve the overall look and feel of your project, but they can be installed in locations that may not have previously been considered, such as alongside main access paths to properties. They also rouse a sense of pride in the bin stores, deterring anti-social behaviour and encouraging correct usage which reduces cross-contamination.
3. Recycling apertures
Bin stores can also be fitted with door apertures for specific waste streams to restrict the items that can be placed in them, avoiding contamination which can lead to recycling being sent or landfill or incinerated. This makes disposing of recyclable materials correctly as easy as possible!
4. Ease of use
Ease of use is essential to optimise recycling participation within neighbourhoods, particularly with disabled or elderly residents.
Bin lids can be a roadblock to recycling, with users disinclined to handle them or being physically unable to lift them and put items in the bin simultaneously. Bin housing can be designed to remove the need to lift the bin lid; apertures can be fitted to units enable users to deposit recyclables without needing to touch any surfaces. This is also a handy feature, given the pandemic!
5. Signs
It might seem simple but clear signage with a strong visual message makes it simple for residents to identify the correct bin for their recyclables.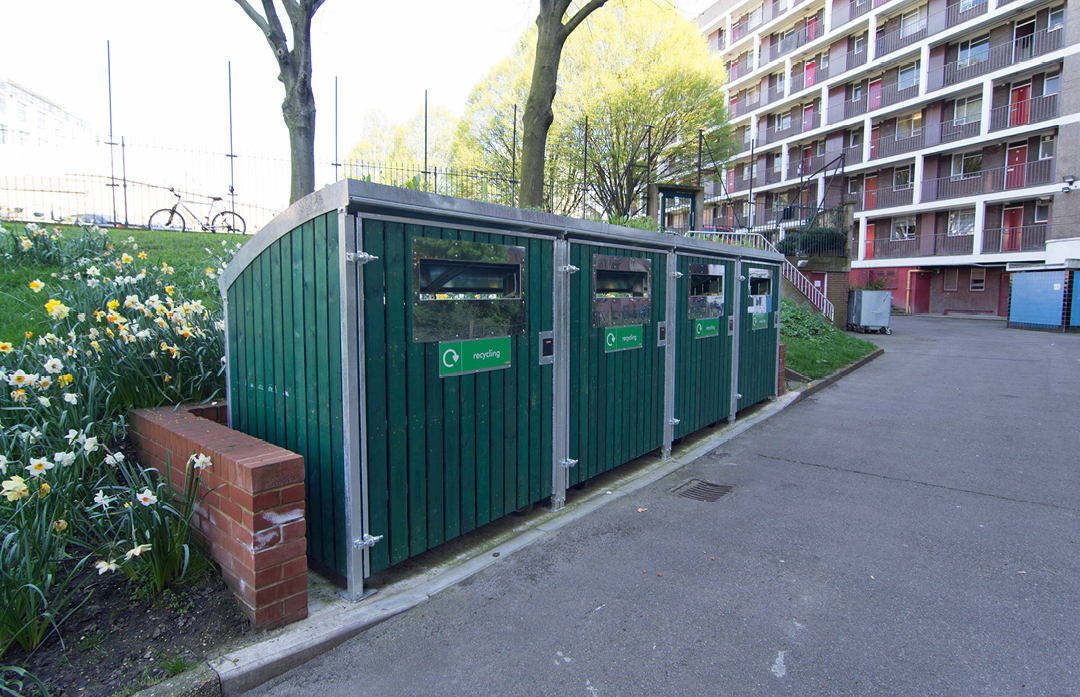 metroSTOR, helping to create effective recycling facilities in your developments!
Refuse storage is a small part of most projects but it can often cause headaches due to the difficulty in establishing requirements from the local authority or failure to understand how it actually works in practice, particularly in demanding environments.
metroSTOR have installed over 10,000 external storage units since 2013, mostly retro-fitted into older social housing blocks to reduce fire risk and fly-tipping, to encourage residents to recycle and enhance neighbourhoods. It is this expertise that has helped us develop a wide range of bin storage products designed to increase recycling, and help our clients understand the requirements to ensure that effective recycling is established.
I am a keen advocate of modular external storage as opposed to traditional methods of construction. metroSTOR's modular recycling bin stores are easy to specify, highly configurable, highly secure and that look great! Our stores can be specified to meet your accessibility requirements with many different cladding types and green roof options available.
Ease of inclusion into your project!
All Streetspace product design is in 3D from concept to production. While essential to streamline design and manufacturing processes, this ensures a swift, reliable product specification pathway for our customers. Each model and model variant exists as a CAD model on our system and most are available for download in 2D and 3D CAD formats. Please visit our website here for more information.
Online CPD Seminar – Designing Effective Waste & Recycling Storage
If you would like to find out more information on creating fit for purpose external storage, we run a free online CPD seminar on designing effective waste and recycling storage. The seminar will help you understand the regulations and the science behind effective containment of waste and recyclable materials awaiting collection within residential environments.
We will share a number of key insights with you, because with fire safety, pandemics and new recycling targets, it has never been more important to get refuse storage right than it is now, both on new and existing buildings.
Please email me at J.Spurgeon@streetspacegroup.co.uk to book your session for a date and time that suits you!