July 5, 2019
---
The sport of padel tennis, also known as just padel, is probably still unknown to most people in the UK but that might be about to change. The Lawn Tennis Association (LTA) has recently confirmed that it will integrate British Padel (the governing body) into the LTA's day-to-day operations, in a move that will give the sport a huge platform to grow.
Padel is a condensed version of tennis that is played on an enclosed court about one-third the size of a tennis court. The rules are the same as for tennis, although serving is under-hand and the walls are used as part of the game, similar to squash. The sport is touted as being very easy to learn and because it isn't so reliant on a player's physical power, it caters to all levels of play and age groups.
The origins of padel can be traced back to Mexico in the 1960s, before it moved across to Spain in 1974 and subsequently became hugely popular. In 1993, the Sports Council of Spain recognised padel as a sport and changed the spelling from 'paddle' for easier pronunciation in the Spanish language. Currently, padel is played by over 10 million people worldwide and its popularity is growing rapidly all over Europe, in particular. Notable enthusiasts of the game include John Terry and Jurgen Klopp from the football world, while Andy Murray, Rafael Nadal and Novak Djokovic are also known to play.
Chris Warren, Managing Director of Rocks Lane Multi Sports Centres and the London Padel Centre, said: "I love that the barriers to playing padel are so low. Players of different ages and abilities can all play together and have lots of fun. It appeals to young and old, male and female, and families. Our new London Padel Centre is extremely popular and I'm looking forward to seeing more people enjoying this sport when we add padel to both our Barnes and Chiswick centres in 2019."
After returning recently from his player analyst role at the Roland-Garros tournament, Shane Liyanage, contributor and one of the Data Driven Sports Analytics Team for the Tennis Nerds Blog, commented: "One of the aspects of padel tennis that I love is how the sport is willing to push the boundaries on a number of fronts and look to innovate. I think orthodox tennis is sometimes restricted by the 'traditions' and slow to change/adapt with the times. When beach tennis was demoed at Roland-Garros, the queues were long with people curious to have a go at the sport. I certainly think that padel sport as a whole has such potential to appeal to multiple generations."
The LTA's announcement comes as part of its five-year plan to grow the game by offering formats that are easier to play and is a strategic move to benefit both the growth of tennis and padel in the UK. The organisation plans to build three padel courts during 2019/20 at the National Tennis Centre in Roehampton, with the courts having multiple purposes including elite player use, coach education and community use.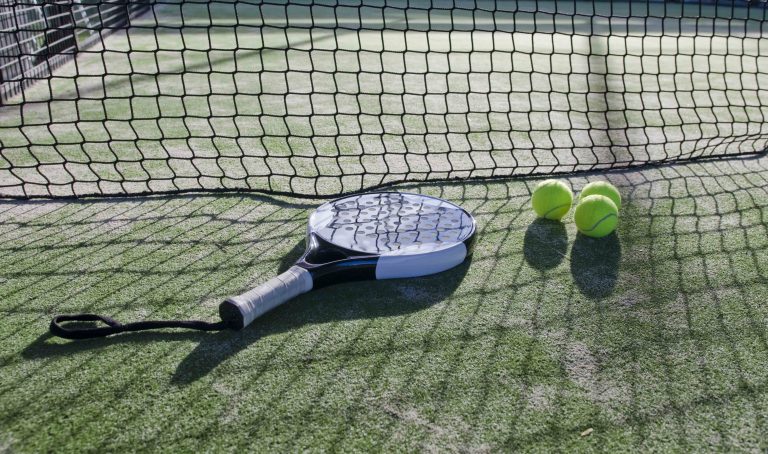 The expected growth in padel means that it is likely to become yet another sport, like tennis and cricket, that is dependent on the whims of the British weather. As a result, padel courts will greatly benefit from the use of sports canopies to provide protection against bad weather and also for floodlights to allow play to continue even when it's dark. LTA research suggests that 30% of all court time for tennis is lost due to bad weather, but at least a 50% increase in utilisation would be achieved with a canopy because potential users will know that the facility will be usable whatever the weather. Tennis covers and cricket covers, which are widely used in the UK, protect the playing surface from the elements but, unfortunately, they do not allow play to continue, whereas all-weather sports canopies can do both.
Here at Streetspace, our Sportspace365™ all-weather sports canopy is a permanent structure designed for outstanding performance, looks and durability. It consists of a PVC tensile membrane cover that is tensioned over a steel framework, which offers exceptional cost efficiency in construction and operational maintenance for large-scale covered multi-use games areas (MUGAs).
Please get in touch with us if you'd like to see how we can help your games to continue, even during the worst of the British weather. We look forward to seeing many people – young and old, male and female – playing padel in the UK over the coming years without having to stop when the rain inevitably comes along!