September 28, 2018
---
Many versatile materials have been used to construct buildings throughout the world, but few give more beautiful and entrancing results than glass. The use of structural glazing in buildings is a favourite with many modern architects, and advances in glass technology have made it a far more usable material. Here's a quick look at ten of the most wonderful and impressive glass buildings in the world.
1. The Glass House, Connecticut
If there is a building that exemplifies simplicity in design, it's Phillip Johnson's Glass House in New Canaan, Connecticut, USA. Designed by the architect – Johnson – as his own residence, it looks a lot fresher than it's 1949 date, and is a quite stunning and beautiful building.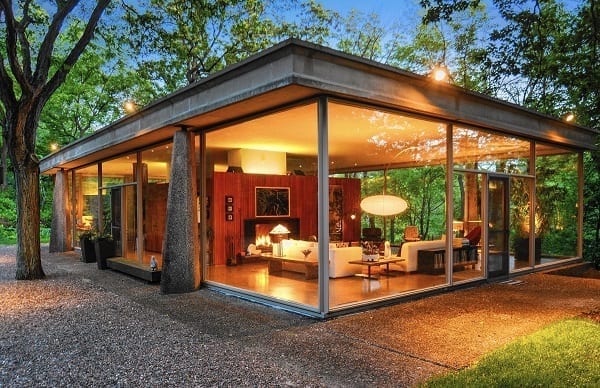 The Glass House
Now a National Historic Landmark, this simple and yet breath-taking glass box is a worthy example of modernist architecture at its best, and a testament to an architect with exemplary vision.
2. Basque Health Department Headquarters
Located in the city of Bilbao, Spain, this stunning and quite bizarre building was always going to compete for attention with the nearby Guggenheim Museum, which is hailed as one of the most impressive examples of modernist architecture.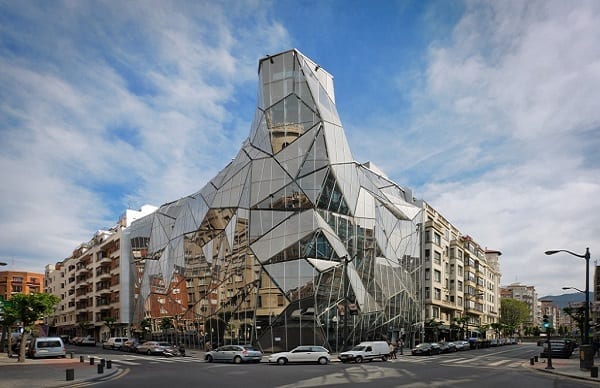 Basque Health Department Headquarters
Sitting amongst regular buildings, the corner-front face of this amazing building at first appears to be a random selection of glass shapes, but when studied it falls into place and is a quite beautiful building in its own right.
3. Sage Gateshead
The unsung city of Gateshead, immediately across the River Tyne from its twin Newcastle upon Tyne, may not spring to mind as a place you'd expect to see a building as spectacular as Sage Gateshead. This superbly sculpted arts and entertainment centre is at the heart of a cultural regeneration in the city, and is widely regarded as one of the most impressive buildings in the UK. Best viewed from the amazing Millennium Bridge or from the Baltic arts centre next door, its reflection in the river is a joy itself.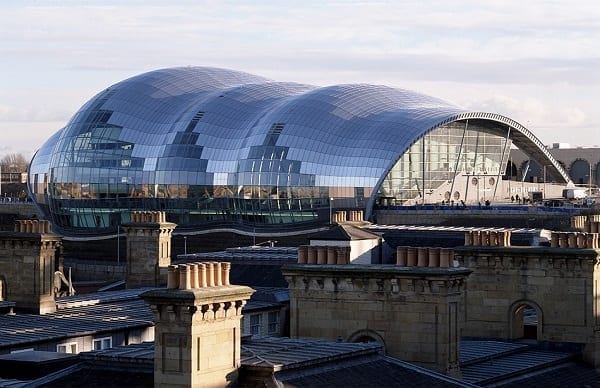 Sage Gateshead
4. Louvre Pyramid
There are few more impressive juxtapositions of the modern and the vintage than the world-famous Louvre Pyramid, a glass building placed in the centre of the courtyard of the Louvre Palace in Paris, France.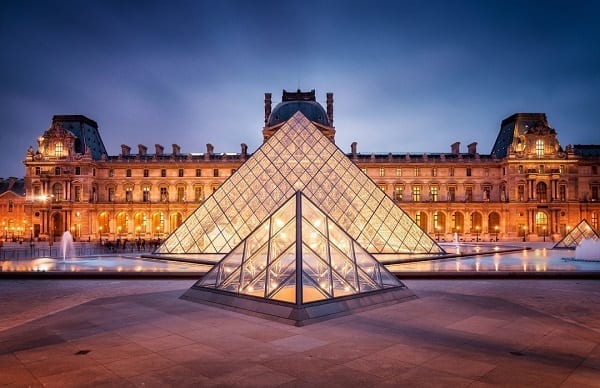 Louvre Pyramid
Quite beautiful to behold, it somehow fits perfectly where you think it should not, and is the work of Ming Pei, who saw it constructed almost entirely in glass in 1989.
5. Aldar Headquarters
An amazing sight that rises as a disc-shaped glass and steel edifice in Abu Dhabi, this wonderful example of structural glazing is a commercial headquarters, and there is plenty of historic local symbolism embodied in the design. Inspired by ancient Greek temples, it is at once a symbol of eternity, of unity and stability, and it's safe to say there is nothing else quite like it anywhere in the world – upright circular buildings are not commonplace.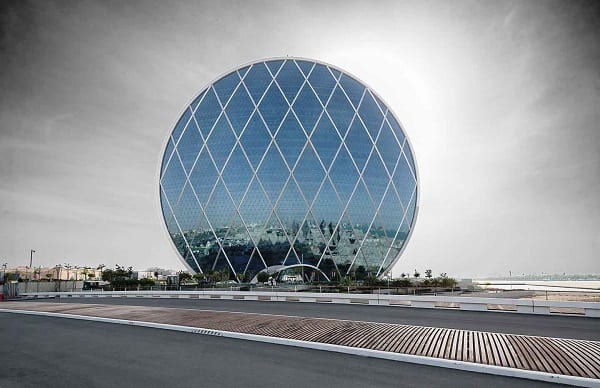 Aldar Headquarters
6. The Glass Home
This housing concept, designed by architect Carlo Santambrogio, is intended to be lived in, but with glass fixtures and fittings is perhaps not ideal for those with small children! Made from blue tinted glass and entirely see-through, the cubic design is nevertheless very impressive and utterly refreshing, and gives a great example of what can be done with glass when a little thought is applied. Designed for use in cooler climates, a view of a snowy vista from one of these would be nothing short of wonderful.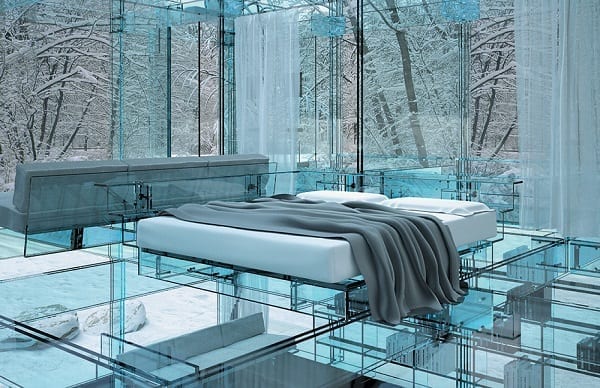 The Glass Home
7. Botanical Garden of Curitiba
Proof that classic design is lasting testament can be seen in the wonderful glass house set within these very beautiful botanical gardens in Portugal.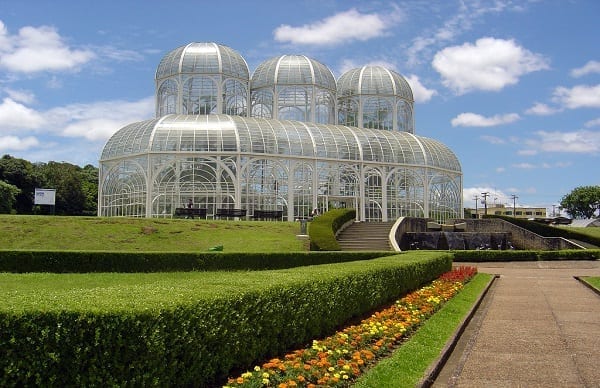 Botanical Garden of Curitiba
The glass house itself is a modern construction, but is inspired by and in the style of the famous Crystal Palace, by Caxton, that was built for the Great Exhibition in London in the middle of the 19th century. In this setting, nothing else would have looked quite so spectacular as this amazing glasshouse.
8. 30 St Mary Axe, London
The name above may not ring any bells, but if we said 'The Gherkin' you may know what we mean! One of London's most recognisable buildings, this unusual and yet spectacular building rises high in the commercial area of London, and yet fits beautifully on a famous skyline. Designed by the office of the famous Norman Foster, at 180 meters high this 41 storey building has joined a wealth of famous buildings in the UK capital, and may be the inspiration for many more to come.
30 St Mary Axe, London
9. Le Estancia Glass Chapel
Occupying a tranquil site in the town of Cuernavaca, Mexico, is the famous Glass Chapel, a primary example of how glass can be used to great effect in a minimalist style. Designed for worship – and used for such – it is at one with the natural flora that surrounds it, and exudes a level of peace and tranquillity that would be difficult to achieve using any other method than structural glazing. It's well worth the hours journey from Mexico City to pay a visit.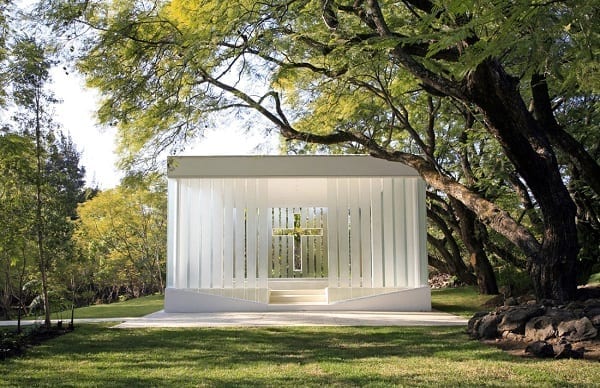 Le Estancia Glass Chapel
10. Farnsworth House
Our final choice, the Farnsworth House, is perhaps the building that has inspired more modernist architects than any other. Designed by the legendary Ludwig Mies van der Rohe, this extraordinary building is beauty personified, and yet amazingly simple in its execution.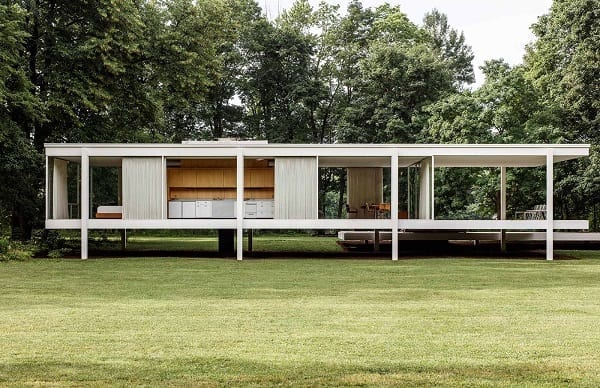 Farnsworth House
Located close to Plano, Illinois, it was finished in 1951 – which is difficult to believe when one first sees it – and was a private residence for more than 50 years. It is now a protected monument, and as one of the most important examples of design in the 20th century, rightly so.
Glass is a wonderful material that is all too often overlooked in anything other than windows, and each of the above 10 largely glass buildings offers a glimpse of what can be done if a little thought and inventiveness is involved in the design processes. The combination of old and new in some of the settings is a delight, and remember that this list is far from definitive – there are many more glass buildings that are worth checking out throughout the world.