September 27, 2019
---
More than 20 staff at Hythe-based Streetspace got creative in the kitchen for Macmillan Cancer Support.
The hotly contested cake-bake was staged as a competition with a panel of three judges assessing the creations for presentation, consistency, flavour and creativity.
The event ended up as a nail-biter with just one point separating metroSTOR salesman Josh Merritt from the rest of the bakers. His Kinder Bueno cheesecake was described by Chairman of Judges, Benita Deacon, as: "Professional with a silky-smooth texture and showing great creativity."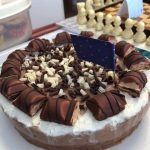 Joshua wins a cream tea for two at The Bistro at Lympne Castle, Hythe.
The event raised £200 for Macmillan Cancer Support and was staged as part of the charity's World's Biggest Coffee Morning event.
Streetspace Project Co-ordinator Kate Funnell said: "It was a fantastic effort by everyone here at Streetspace and metroSTOR. It is certainly an event we want to repeat in the future as it was such great fun."
Streetspace builds covered canopies and walkways, all-weather sports canopies and green roof buildings. The company's metroSTOR division creates outdoor storage including bin stores, bike and mobility scooter storage.